Become a Basic Certified Laughter Yoga  Trainer  online
Individual and Group
Duration :8 Hours
Location : online
Book Your online slot
Date : Every 3 rd. Sat &Sun 
Mission: Depression Free World by Dr.Harish Rawat
International Laughter Yoga Guru
Guinness World Record Holder
Founder : Lot of Laughter Yoga Foundation
Who is this Crash Course for?
   Corporate Employees &-Business and HR Professional
Homemakers and Senior Citizens
-Fitness trainer
-Alternative therapists
-Social workers/Healthcare workers
  Students
-Yoga practitioners and teachers
Someone who are looking for Happiness &Inner Peace
  Someone who are suffering from stress, Anxiety and depression.
  Someone who are looking for good health. 
How does the Crash Course Work?
What Is laughter Yoga?
Scientific Mechanisms of Laughter Yoga?
Benefits of Laughter Yoga
Story of Laughter Yoga
Connection between Laughter + Breathing
Powerful Breathing Exercise
20 Laughter Yoga Exercise
Activity and Assignment
Stress Free life, How to be happy, Breathing Exercises, Laughter Yoga exercises, Laughter yoga Dance and Laughter yoga Meditation.
Technique how to be happy, how to be change your mood with in minute.
where applicants receive a basic knowledge about LY and how it works as well as learn about the huge benefits it provides for the body ,mind and spiritual level.
The practice involves guided laughter exercises and activities that aim to bring joy, playfulness, and relaxation to the applicant. It is based on the belief that even fake laughter can lead to real physical and emotional benefits, such as reducing stress and improving mood
This training is designed to learn the basic teaching skills so that you can lead a group of people through a LY session and meditation.
You will also learn practical ideas on how to bring more laughter and joy into your life and others Life
Assignment Discussion
Discussion on 5 Scientific Research Paper LY (Optional)
How to conduct small Laughter Yoga in school, Collage, ,Society and Corporate Session
20 Laughter Yoga Exercise
Laughter Meditation (Basic level ) Deep Laughter yoga meditation in Advance TTC (***For detail Please connect)
How to use Props during session
Laughter Prayer
Assessment
Laughter Dance and Fun activity
Query Resolution Session (Q and A Session )
Discussion about Advance course
Distribution of certificate and photo and Video session ( Online)
Time is running out.
Grab your spot fast!
Payment Revise soon
Yes! You will be certified for this Crash course once you submit your assignment.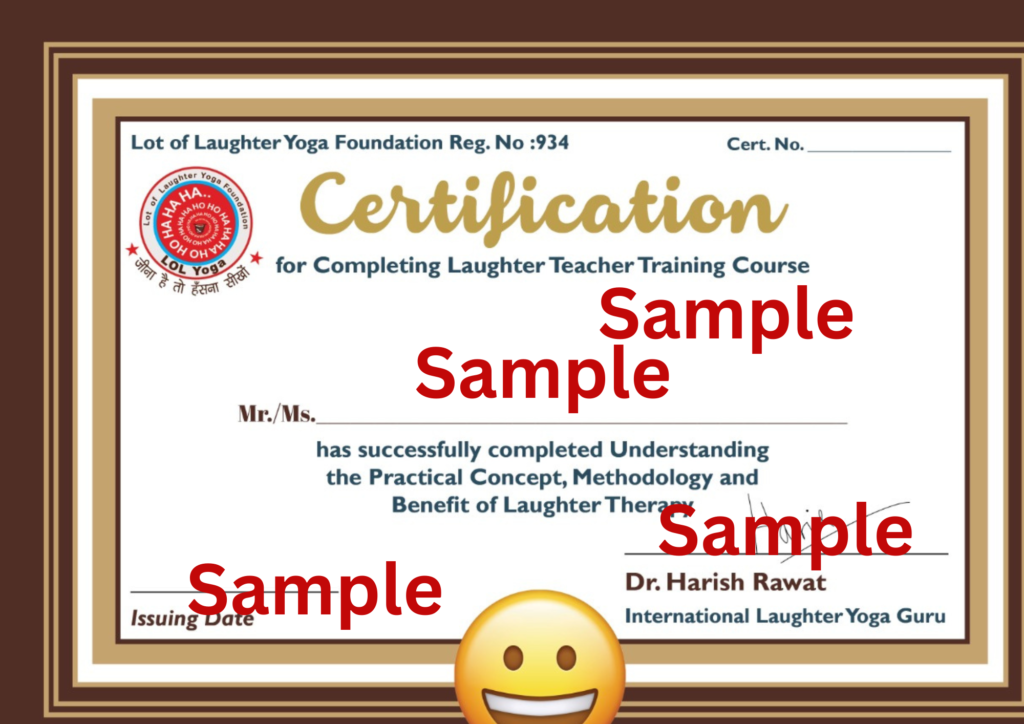 Official and verified by Lot of Laughter Yoga Foundation and udemy
Two Certificate:
 Certified Laughing Trainer hard Copy certificate
one from Udemy Academy after completing course.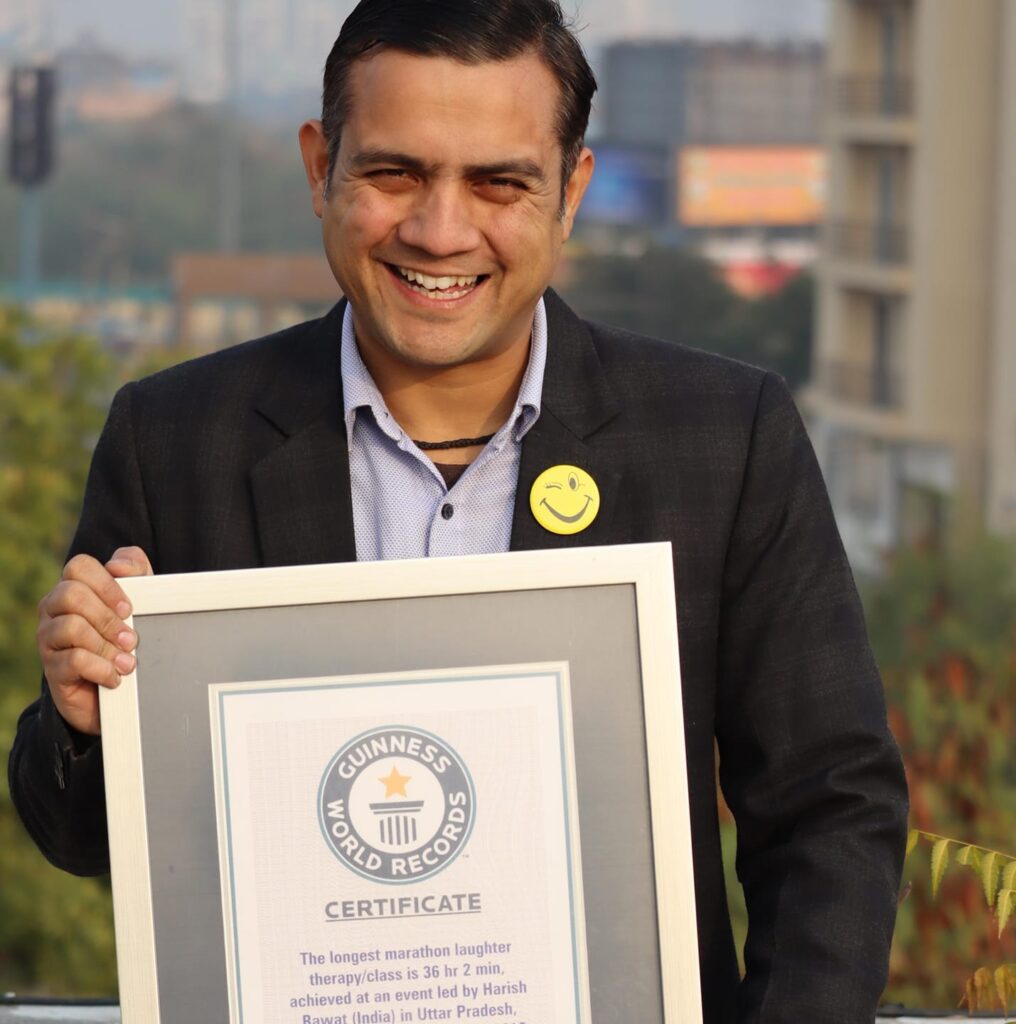 Dr.Harish Rawat
International Laughter Yoga Guru
Guinness Book of World Record Holder
Limca Book of world Record Holder
Dr. Harish Rawat is an international Laughter Yoga Guru and Founder of Lot of Laughter Yoga Foundation in India; who engaged in conducting Laughter wellness sessions in different sections of society including school, colleges, corporate, slums, defence, societies and even prison .More than 65 k people took beneficially from his sessions
Mission: Depression Free World and World peace by Laughter Yoga. For spreading this message, he has successfully registered his name in "Guinness Book of World Record" for Longest Laughter yoga marathon 36 hours 2 minute in 2018
Dr. Harish Rawat is Phd in alternative medicine, Masters in Pharmaceutical Bio tech, Bachelor in Pharmacy .
Research Paper:  Dr. Harish Rawat had also published a research paper on Yoga "HOW SUDHARSHAN KRIYA HELPS TO REDUCE THE HABIT OF SMOKING AND MOTIVATE TO QUIT SMOKING"- International Journal of Pharmaceutical Sciences Review and Research
Author Of Book
1) Laughter Therapy for Depression by Dr. Harish Rawat
2) The Magic of Laughter in positive affirmation by Dr. Harish Rawat
Dr. Harish Rawat's Laughter yoga sessions are covered by various media platforms such as  DD Sports National TV ,Anjan TV (National TV),TEN News, MS TV, Gee News , Nav Bharat Times , TOI ,HT , News18 Hindi, Khabardaar TV ,Viral India ,Kalki News and Delhi Darpan news channel..
International Presence :Dr Rawat Laughter Yoga courses are running in 11 countries like the USA, Spain, France, Greece, Italy, Russia, Canada, the United Kingdom, Bangladesh, Nepal, and Australia.
Double Dhamaka course details
Be a Certified Laughter Yoga Angel
onlyRs 4999 
Be a certified Laughter Yoga Leader and start earning.
Enjoy the discounted price of ₹1099 only for two courses and save a total of ₹4800.
The launch offer expires, 28 FEB 2023.
Price of the Crash Course
₹4999
₹14999
 
By the end of 2 Days Course, you will be able to
Understand the basics of Laughter Yoga 
Understand how to conduct Laughter Yoga sessions in school, Society and Corporate 
Understand how to add laughter in your own life and be happy and healthy.
E-Book  Laughter Therapy For Depression
Good Physical and Mental Health
Frequently Asked Questions
This is online  Video pre recording Course , you can start  as per your comfort zone or timing. Life Time access given to complete your course.
Yes its refund  with in  3 days   Course Fees can be refunded with in 3 days ,providing that your refund request meets the eligibility Criteria
Yes you will get two  E-certificate one from Udemy and second from our organisation
For any support, please mail to lolyogafoundation@gmail.com  Our support team will get back to you within 24 hours.